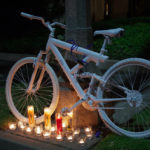 Once again, someone has been killed riding a bicycle on PCH.
According to the Daily News, a man in his 20s was riding north on the 200 block of Pacific Coast Highway around 7 pm when he was struck from behind.
A press release from the Santa Monica Police Department places the initial call at 7:03 pm.
The victim died at the scene. He has not been publicly identified pending notification of next of kin.
No word on whether he was using lights at the time of the crash, which came nearly 45 minutes after sunset.
The driver initially fled the scene, but returned shortly later, which should be considered hit-and-run, but probably won't be. Police are investigating why the driver failed to stop after the crash.
The person driving, who has not been identified in any way, is not currently suspected of being impaired; no word on whether distraction was involved, or why the driver failed to see someone on a bike directly in front of them.
A street view shows a six-lane highway with a center left turn lane, where drivers frequently exceed the 45 mph speed limit.
Anyone with information on the case was urged to call Investigators Pace or Olson at 310/458-8954; or call the SMPD at 310/458-8491.
At least 13 people have been killed riding bicycles on PCH in Los Angeles County since 2005; eight of those have been killed on the deadly northern section of the highway running through Santa Monica, Pacific Palisades and Malibu.
This collision occurred roughly across the street from where Erin Galligan was killed while riding home from work in a 2012 hit-and-run; that driver still hasn't been caught.
This is the 51st bicycling fatality in Southern California this year, and the 22nd in Los Angeles County; he's also the first bike rider to be killed in Santa Monica since Galligan's death.
My deepest sympathy and prayers for the victim and his loved ones.