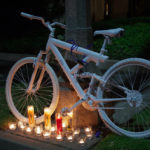 And then there were two.
Less than two hours after a man was killed riding his bike in Long Beach, another man was killed while riding on an Oceanside highway.
According multiple, mostly identical reports, the victim was struck from behind while he was riding west on State Route 76 east of Melrose Drive around 11 am.
Oceanside police were unable to revive him at the scene, and he died after being airlifted to an Escondido medical center.
He has not been publicly identified at this time.
The 25-year old driver reportedly veered into the bike lane where the victim was riding. He was arrested at the scene on an outstanding misdemeanor warrant, as well as driving with a suspended license.
A satellite view shows three through lanes on westbound SR-71, with a double left turn lane, right turn lans and a bike lane. There's no protection for the bike lane, which runs between the right through lane and the right turn lane, despite the apparent 55 mph speed limit.
Anyone with information is urge to call OPD officer David Paul at 760/435-4431 or Sgt. Rick Davis at 760/435-4906.
This is the 38th bicycling fatality in Southern California this year, and the third in San Diego County. It's also the second in Oceanside this year.
Update: The victim has been identified as 70-year old Wildomar resident Paul Cornish.
Update 2: It was later discovered that the driver, Felix Ruizbazan, was driving a stolen car. 
My deepest sympathy and prayers for Paul Cornish and his loved ones.