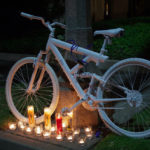 Word is just breaking that a man in his 60's was killed yesterday while riding his bike in the Winnetka neighborhood in the San Fernando Valley.
The victim was reportedly riding his bike in the crosswalk on westbound Lanark Street crossing Winnetka Ave when he was struck by the driver of a 2001 Toyota Corolla around 6:30 pm.
He was taken to Northridge Hospital where he was pronounced dead.
A street view shows a wide four lane roadway on Winnetka, with a center left turn lane and a bike lane in both directions, and an uncontrolled crosswalk on the west side.
No other details are available at this time.
This is at least the 35th bicycling fatality in Southern California this year, and the 18th that I'm aware of in Los Angeles County.
A ghost bike ceremony is tentatively scheduled for 9 pm tomorrow night. (Note: This originally said it would be held on Tuesday, but it will be Wednesday, instead.)
My deepest sympathy and prayers for the victim and all his loved ones. 
Thanks to Zachary Rynew and Steve Spence for the heads-up.